League Meetings

League Meetings are at 8:00pm at the Danubia Club, Southampton Road and Kovats Street, Philadelphia PA.  Meetings are the First Monday of March, April, May, June, August, October and November.  The September meeting is the Last Monday of August.  Board Meetings start at 7:00pm.
Want to play? Find a Team!
If you would like to find a team to play on, follow the link below to give us your information.  Prospective player information is distributed to all teams regularly.

United Soccer League

Founded in 1959.  One of the oldest adult soccer leagues in the country!

US Adult Soccer Elite Amateur League.

Affiliated with US Soccer through US Adult Soccer and E Pennsylvania SA.

South Jersey teams affiliated through New Jersey SA.


Home of many Regional and National Cup Champions, and regularly represented in the Regional Cup brackets.

The hightest level of adult amateur competition in Eastern Pennsylvania and South Jersey.
Locations of United Soccer League Clubs



Here is a Google Map showing locations of our clubs.

Connect with us:
West Chester United to play home in 2nd Round of Lamar Hunt US Open Cup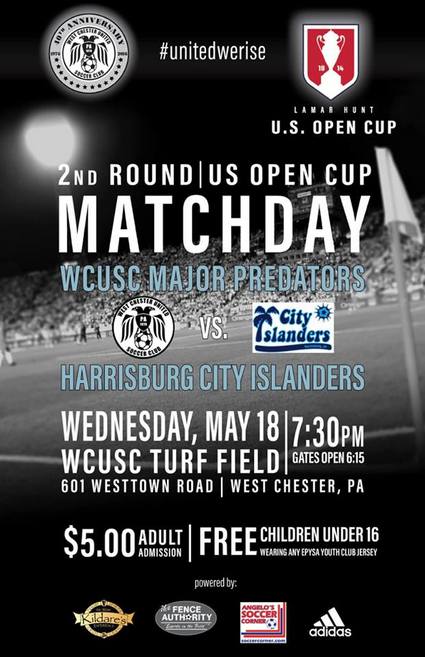 West Chester United will host USL Pro side Harrisburg City Islanders on Wednesday, May 18 in the 2nd Round of the 103rd Lamar Hunt US Open Cup.  Match will be at the West Chester United SC turf field, 601 Westtown Road, West Chester, PA.  To get here, West Chester beat NPSL side Fredericksburg FC 8-7 in penalty kicks, after a 1-1 tie after overtime.  In that match, West Chester held a 1-0 advantage through the match, but conceded a late goal to force extra time.  
In recent years, West Chester United has won 4 straight Eastern PA Open Cup titles, and just won the 2015 Werner Fricker US Open Cup, hosted by US Adult Soccer.  More information about West Chester's journey can be found in an article  HERE